Find us on CNR of Digger & Grove Sts, Cairns
We are located on the corner of Grove and Digger Streets, Cairns
Welcome to the Cairns Cock & Bull Cairns. Pop in and see us. You'll find our friendly staff are waiting to take your order and pour your next drink!
Enjoy a beautiful meal from our bistro and char grill menus with your family or friends. Enjoy our friendly hospitality in the gaming room. Try your luck on 45 top jackpot pokies and KENO.
Come on down and say hi! Relax with a game of pool and a few cold ones.
Open 10am-5:30am daily
---
Contact Details
COCK & BULL
6 GROVE STREET
CAIRNS 4870, AUSTRALIA
PHONE (07) 4031 1160
EMAIL: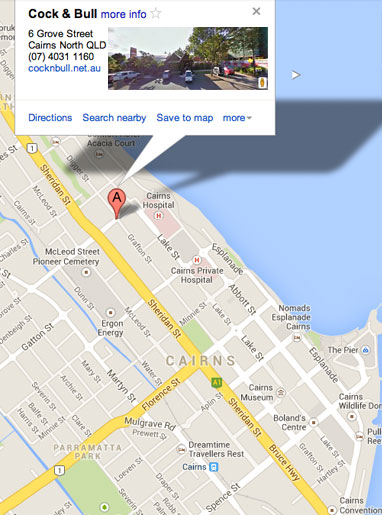 ---
What they say about us:
After reading many reviews we decided to go to this establishment and see for ourselves. The meals are HUGE. My sister had an entree sized meal and it was more than enough. I had a steak. It was cooked well. The potato mash was amazing! Prices reasonable and on a par with pubs all over the country. There are two places you can go to order your meals, go to the Hearty food counter, not the steak bar and grill if you are looking for something else to eat. This is not a waiter comes to your table to take your order. It is a pub, not a restaurant. You go to the bar to order and pay for your food and to get your drinks. The staff are great. Shout out to Heidi!
We loved it!
- Lyndela - TripAdvisor Review
Came back to the hotel after scuba diving, napped and woke up starving! Knew it was time to visit the Cock & Bull since the front desk said the portions were generous. Truly an understatement! Had a rib eye meal with salad and chips with gravy on he side. Chips and gravy omg! Definitely worth a stop if you're hungry!!
- Christaa - TripAdvisor Review