Find us on CNR of Digger & Grove Sts, Cairns
We are located on the corner of Grove and Digger Streets, Cairns
Welcome to the Cairns Cock & Bull Cairns. Pop in and see us. You'll find our friendly staff are waiting to take your order and pour your next drink!
Enjoy a beautiful meal from our bistro and char grill menus with your family or friends. Enjoy our friendly hospitality in the gaming room. Try your luck on 45 top jackpot pokies and KENO.
Come on down and say hi! Relax with a game of pool and a few cold ones.
Open 10am-5:30am daily
---
Contact Details
COCK & BULL
6 GROVE STREET
CAIRNS 4870, AUSTRALIA
PHONE (07) 4031 1160
EMAIL: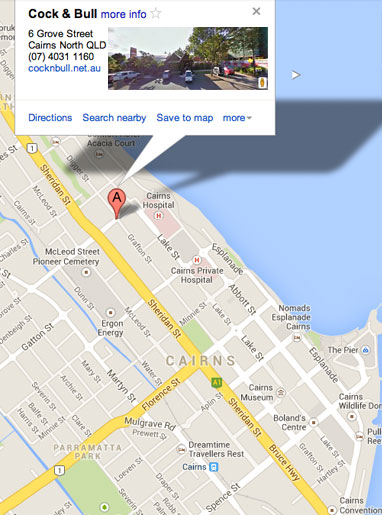 ---
What they say about us:
What a FANTASTIC place to eat and drink.
Went here with my family (6 persons) to have a simple diner after a long drive, without knowing the concept of this restaurant. What a great diner it was. So much nice food for a small amount of money.
The crew was so nice and friendly.
Pay directly after your order so you can walk out whenever you want is something we really liked.
Thank you all!!!
- Steph - TripAdvisor
Went here with my daughter, we ordered a rump and their famous chicken schnitzel. The food was very nice and the serves were huge!
Service and atmosphere on a weekday evening was good, lots of families enjoying dinner together. Plenty of indoor or alfresco seating.
As we were leaving we saw a man with a giant dessert of ice cream, cake, chocolate sauce and whipped cream. No joke, it was as big as his head and took 2 hands to carry!
- "Groundsy71" - Tripadvisor